GEOCELL RED in road construction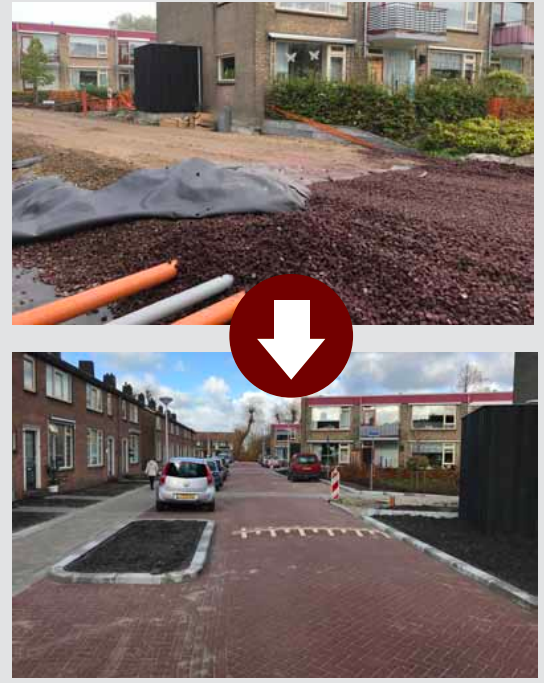 Alphen aan den Rijn is a city and community in South Holland. This area was already inhabited 2000 years ago. During the Roman period, the Oude Rijn was the main branch of the Rhine.
After several floods, the Rhine was sealed in the course of the years. Nevertheless, for the city, which has more than 100.000 inhabitants, major problems are arising in relation to settlement-sensitive grounds. The houses are protected from settling over the long term by the pile foundation. The main problem is a time window of approx. 30 years in the field of road guidance. In the medium to long term, the roads in residential areas have been dropping due to the high groundwater level.
 Drainage pipe
STRUCTURE AND MODE OF ACTION
The system consists depending on the requirements of various components in layering sequence. The upper one contains a mineral mixture, the lower one contains GEOCELL® RED. In the passage from mineral mixture to GEOCELL RED or rather GEOCELL® RED to the existing soil, the use of geogrids is recommended. The respective layer thicknesses are proposed by GEOCELL® RED based on the requirements on the system.
1 Mineral mixture
2 Geo-grid
3 GEOCELL RED
4 Geo-grid
5 Existing ground
Through the composite effect between geogrid / mineral mixture / GEOCELL RED occurs a reinforced and ideal load distribution with the thereof resulting increase of the load capacity – goal achieved. In the area of contact between the coarse-grained GEOCELL RED and the overlying mineral mixture, filling grains out of the fine mineral mixture settle in the near-surface areas. This leads to the formation of a mixing zone. This leads to a significant stiffening of the contact zone and thus increases the bearing capacity of the entire system.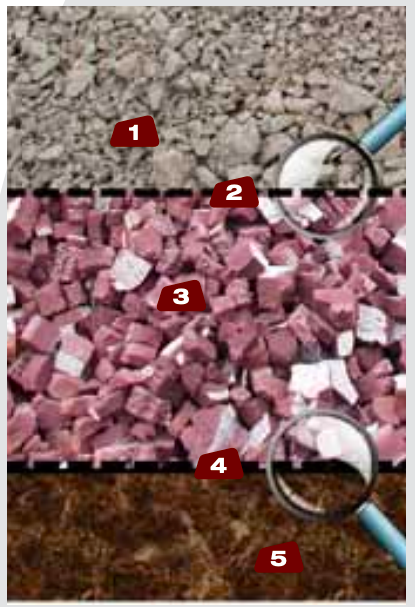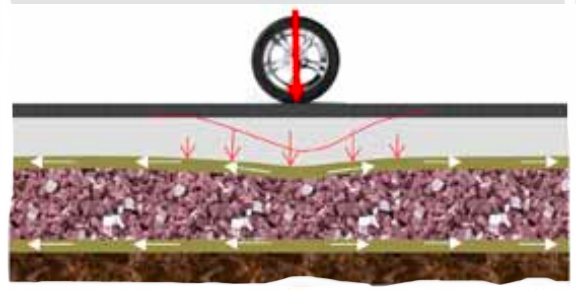 Call us, We are available 9.00 – 16.00 GMT
THE ANSWER IS YES! GEOCELL® FOAM GLASS GRAVEL IS A HIGH-QUALITY INSULATING MATERIAL MADE OF 100% RECYCLED GLASS. THE PRODUCT IS ENVIRONMENTALLY FRIENDLY, ECONOMICAL AND COMPLETELY PETRO-CHEMICAL FREE. GEOCELL FOAM GLASS GRAVEL EXHIBITS DUAL CHARACTERISTICS OF INSULATION AND DRAINAGE.
DIBT Approval
CE Mark
Carbon Footprint
Passive House Magazine
Drop in your E-mail address and we will get back to you.